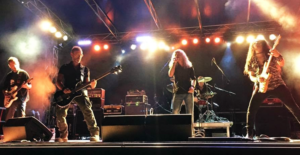 Aggiornato al 22 Giugno 2022
Nati a Savona nel 1978, il loro sound tipicamente anglo-sassone ebbe riscontri anche all'estero dove furono citati da parecchie riviste specializzate come fautori della nuova ondata di heavy metal band fine anni '70 primi anni 80.
Inoltre parteciparono come headliner al primo festival heavy metal italiano tenutosi a Certaldo in provincia di Firenze il 21 maggio 1983.
Nella loro carriera hanno partecipato anche a varie compilation metal tra le quali Mountain of Metal, uscita negli Stati Uniti, con il brano "Hanged Man" e Metallo Italia con il brano "It's Over".
Discografia
Ranfa entra a far parte del gruppo il 1 Luglio 2015 e di li a breve ne uscirà un CD "Too heavy to fly", ben accettato da critica e fans.
Quasi quattro anni di live e il gruppo è di nuovo in studio per la realizzazione di un altro album. Il lavoro che ne esce fuori è edito il 10 Luglio 2021, con il titolo di "The last in black"